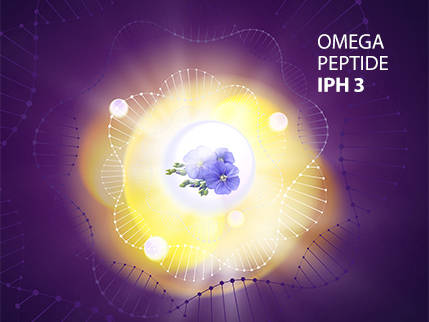 Peptide IPH AEN
Due to the target action of short peptide IPH AEN an increase in the synthesis and renewal of cartilage cells occurs, which accelerates the process of an osteanagenesis. It helps to support the functionality of the musculoskeletal system, in particular the joints, prevents and slows down inflammatory and degenerative processes. Peptide IPH AEN can rightly be called a powerful bioregulator for the musculoskeletal system. In addition, it is quickly absorbed and enhances the effects of Omega-3.
Polyunsaturated fatty acids Omega-3
The most important Omega-3 acids are alpha-linolenic, eicosapentaenoicand docosahexaenoic acids. They are not synthesized in the human body and are irreplaceable substances that must be regularly obtained in sufficient quantities from food. Omega-3 acids actively participate in cells building and tissue regeneration, have anti-inflammatory effects, help to restore joint function, improve skin quality. In combination with peptide IPH AEN even more increase its effect on cartilages and a bone tissue.
Effects and results:
elasticity of tendons and ligaments;
reduction of inflammatory reactions in joints;
recovery of motions amplitude;
OMEGA strengthen the musculoskeletal system.
Major factors to intake this complex:
intense physical and sports strains
sedentary lifestyle;
obesity;
age-related changes in the structure of the musculoskeletal system.